Burg Eltz is a medieval castle located in Mosel river valley in Germany. It has not only been owned by the same family (named Eltz, duh) for over 860 years, but has also remained largely intact since its completion. 33 generations of various branches of Eltz family have lived in the castle, and still live today. The 80-room castle has enough space for multiple families living there comfortably at the same time. Owners' official aristocratic titles are: Count and Countess of Eltz.
Fairytale castle hidden among forests
The castle's difficult location has helped it to avoid war and turmoil during difficult times. Castle Eltz is surrounded by river from three sides, in a forested remote hills. Only two other castles in the region remain largely intact.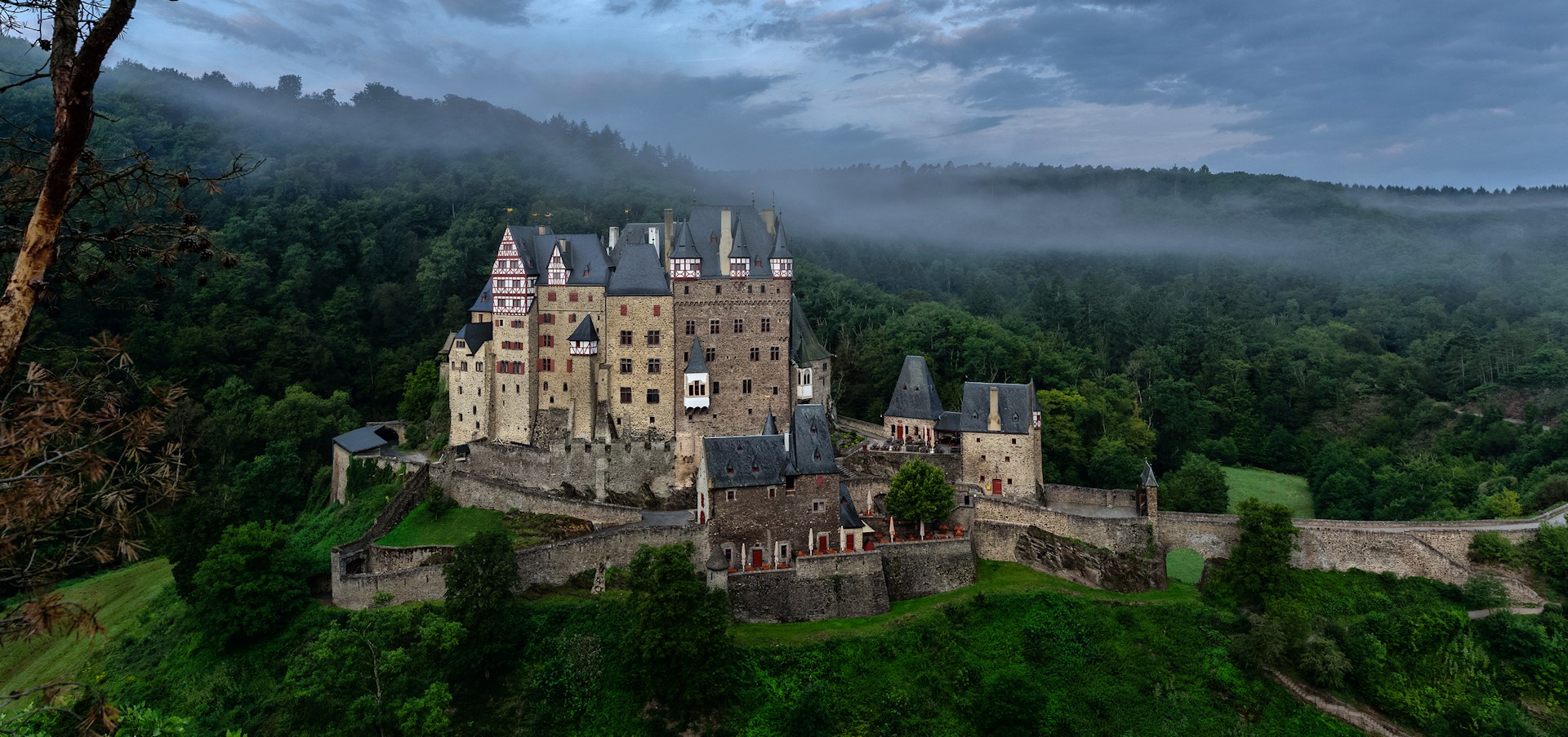 Its chaotic fairytale looks, with variety of of towers are a result of regular additions and modifications. Emperor Frederick I Barbarossa issued a deed that confirmed Eltz family ownership of the castle in 1157. The owners kept adding to the building, until sometime between 1490 and 1540 it reached its current state.
Ghost of Castle Eltz
As it the case with many castles, local guides will assure visitors, that the castle is haunted. In 15th century an engagement party took place in Burg Eltz. Countess Agnes was promised by her father to rich squire of Braunsberg ever since she was a small girl. She was not too happy about that, because the squire was a ruthless man. She refused to kiss him at the engagement party, which enraged the squire.
His thirst for revenge had to be quenched. He waited a year. When Count of Eltz went hunting, squire of Braunsberg attacked the castle with his vassals. Young Agnes herself led the defense of the castle. Unfortunately, she was mortally wounded by her fiance's arrow. This enraged the defenders, who then killed all of the attackers.
Supposedly, ghost of Agnes still haunts the castle today.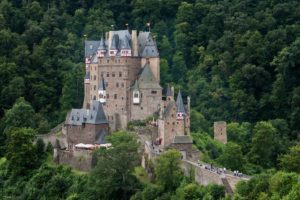 Tourist visit of Castle Eltz
The castle is open for tourists (even during coronavirus epidemic), with admission price of 11€ (as of 2020). It is located 60 km (about 1 hour drive) from Frankfurt Hahn low cost airport, and about 135 km (1 hour 40 minutes drive) from Frankfurt International Airport.
World of Tanks landmark
Fun fact: Himmelsdorf map in popular MMO video game World of Tanks features a castle based on Burg Eltz.
Top Photo by Genadij Etus / CC-BY-SA-4.0