Most goals in a season, youngest player to score a goal, most hat-tricks, or fastest goals are typical talked about football records. But how about the quickest red card? In association football (known as soccer in the United States) red card means that the player is sent off the field for a serious misconduct, or after second yellow card (yellow card signifies minor misconduct).
Game referee shows the red card, and sends the player off immediately after following misconducts (quoted from Law 12 of official Laws of the Game):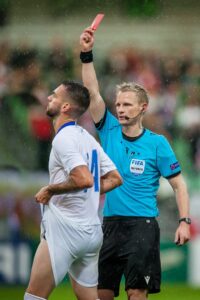 Serious foul play
Violent conduct
Denying an obvious goal-scoring opportunity with a handball (this does not apply to a goalkeeper within his/her own penalty area)
Denying an obvious goal-scoring opportunity with a deliberate foul
Using offensive, insulting or abusive language and/or gestures
Receiving a second caution in the same match
The quickest red card in football
Sunday leagues in the United Kingdom may not be as fancy as Premier League. They are mostly amateur, but are recognized by the FA (The Football Association), and take part in nationwide knock-out competition, the FA Sunday Cup.
On the Sunday of October 8, 2000, local team Cross Farm Park Celtic was playing against Taunton East Reach Rovers in third division of Sunday League of English county of Somerset. Cross Farm Park's part time star striker, part time bricklayer Lee Todd was waiting for the first whistle near the center spot with his back to the referee, Peter Kearle, who did not notice how close the player was to him. When the referee blew his whistle, startled Todd exclaimed "Fuck me, that was loud". Referee wouldn't have any abusive language in the field, and immediately showed a red card, sending the dumbfounded 22-year-old striker off the field. Witnesses claim the whole incident took only 2 seconds.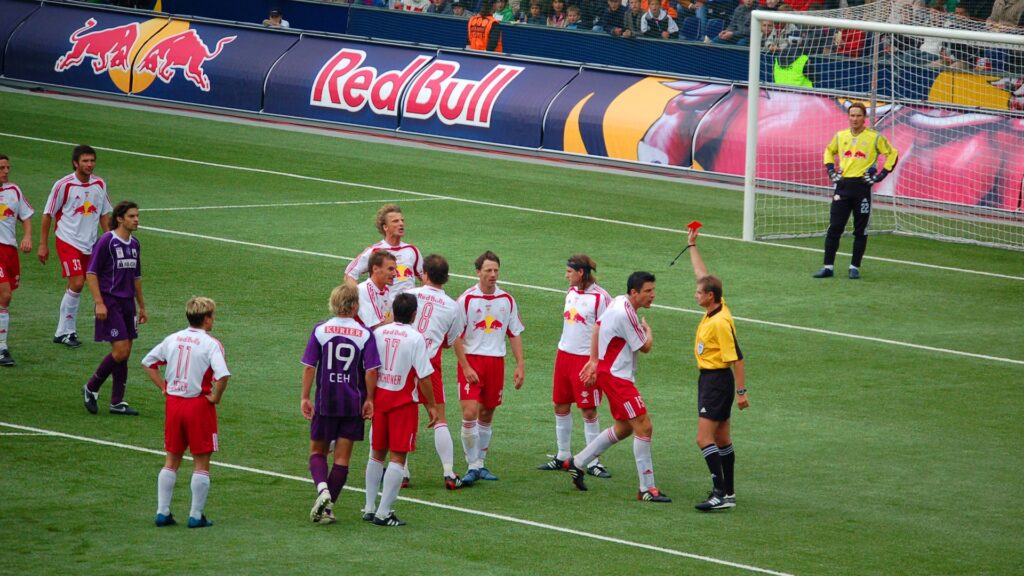 Red card reaction
Along with his red card, Lee Todd received a 27 pound fine (this would be about 46 GBP in 2020 pounds, after inflation adjustment, or 57 USD), and a 35-day ban. The goalscorer later explained: "Anyone else would have done the same – he nearly blew my ear off, I was gobsmacked. I wasn't swearing at the ref or anyone else. I'm surpised he even heard me. I was just muttering to myself. Football is a man's game and players swear all the time. I was off the pitch before the match even began.", and declared his plans to appeal his fine and ban, although the records are quiet on whether his appeal was accepted.
Despite losing their star goalscorer, who scored 7 goals in previous two games, Lee Todd's team Cross Farm Park Celtic easily won 11-2 against Taunton East Reach Rovers.
More football records:
No team has ever won FIFA World Cup with a foreign-born coach
Norway national football team is the only team that never lost against Brazil
Top photo: Football referee showing a red card (Photo by Steindy / Wikimedia / CC-BY-SA)