As of 2019, there are at least 19 countries where denying that Holocaust happened is a crime: Austria, Belgium, the Czech Republic, France, Germany, Greece, Hungary, Italy, Israel, Liechtenstein, Latvia, Lithuania, Luxembourg, Poland, Portugal, Romania, Russia, Slovakia and Switzerland.
Denying Holocaust in Germany can result in up to 5 years in prison. In Hungary denial or trivialization of Holocaust is punishable by imprisonment up to 3 years. In Italy, even 6 years.
Holocaust denial historian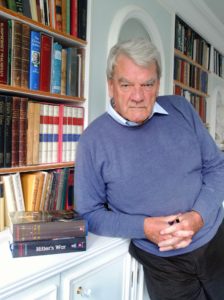 Some countries do not take lightly to Holocaust deniers. Austria has sentenced British disgraced writer and historian David Irving to three years in prison, of which he served 13 months. A few years earlier Irving bankrupted himself in a lengthy and costly lawsuit known as David Irving v Penguin Books and Deborah Lipstadt. He sued the publishing house for libel after author Deborah Lipstadt claimed in her book The Hitler of History that Irving was a history falsifier, bigot, Holocaust denier, and that he distorted and manipulated real fact sources.
More Holocaust deniers jailed
Court in Germany has sentenced a senior dubbed by media as "Nazi grandma" to two and a half years in prison. The 89-year-old denier Ursula Haverbeck tried to appeal the sentence, but even Germany's constitutional court doesn't agree that Holocaust Denial is an example of free speech.
Alain Soral was sentenced to one year in prison by French court for publishing on his website conclusions seemingly negating Holocaust.
Top image credit: Auschwitz Concentration Camp Museum: confiscated shoes (photo by Scotch Mist / CC BY-SA 4.0)